Choosing the best formal outfit for women is not an easy task. Almost every morning it takes up a lot of time trying to figure out what to wear. I can totally relate. With so many options in hand, you might be overwhelmed with choices. The way we dress not only helps to present ourselves but helps to make a statement. It reflects our inner personality. The choice of our dress and how we carry it creates an impression.
Choosing the Best Formal Outfit For Women 2020
However, there are a few things we women struggle with when it comes to shopping or choosing office wear.
You definitely do not want to look too loud or bold. We all travel to our respected workplaces either by public transport or private ones. In either of the case, we need to put on something light and comfortable. While for some jeans and a T-shirt is the best comfy set to put on there are others who can pull off an entire hectic day wearing a saree. But then that's a very rare case.
The next thing is the dress code. Every office does not have a dress code. While most offices permit formal outfit for women there are a few who allow informal as well. If you belong to one such place consider you are lucky. You have a lot more options to experiment with. But otherwise, if you do not like wearing formals you have no option but to deal with it.
When it comes to choosing the best formal outfit for women you can either wear a kurta, salwar suits, skirts, or even trousers and formal pants. Again that would depend on where you work and what are their dressing code.
It is a good idea to keep your office wear, regular wear and party wear separated. That solves the entire problem of being confused about what to wear. As you would spend most of the days of the year and most of the time in a day at your office its obvious that you need a good number of quality clothes.
Well, yes we do often get bored with old clothes. Women love shopping. How do you feel when you wear a new dress for your office? Doesn't it make you feel good and confident? This little change does affect our day and makes us feel better.
Five Best Formal Outfit For Women
Now, I am going to talk about 5 different Kurti combinations that would be great for your office wear.
Printed Anarkali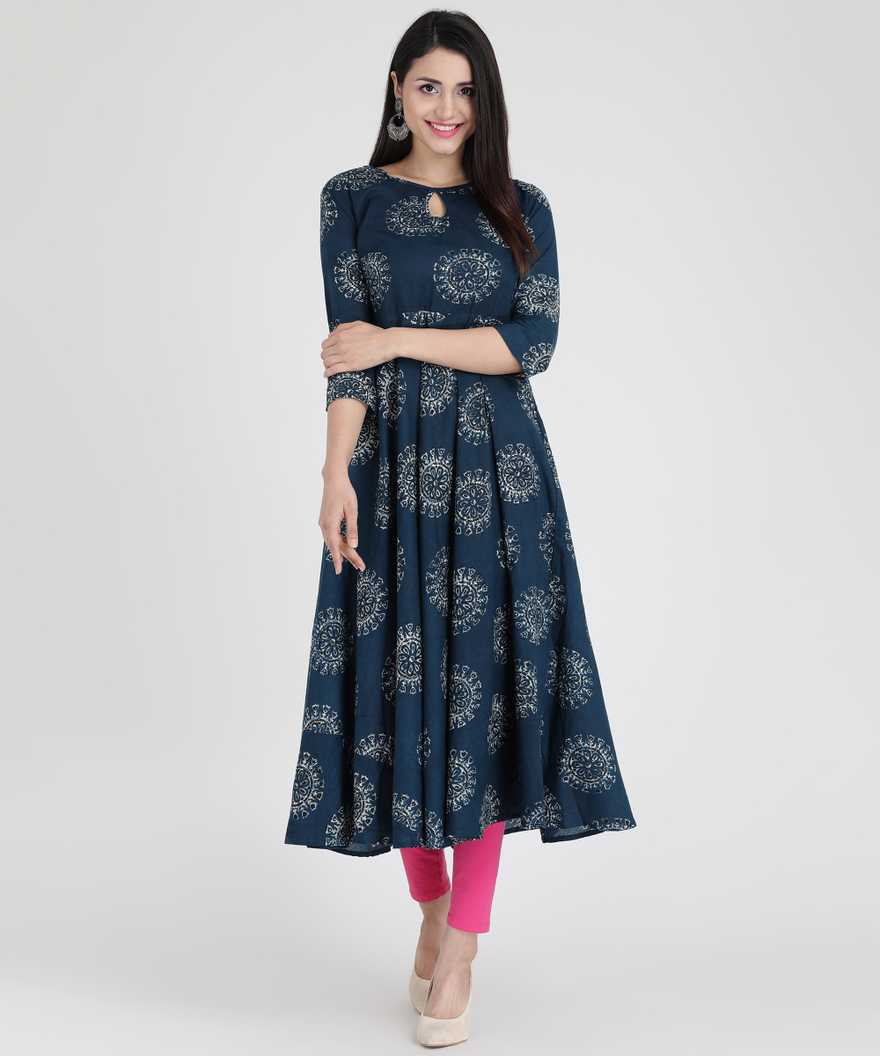 The Blue print Anarkali is a great choice as a formal outfit for women. The fabric is a cotton blend that makes it perfect for summer use and regular wear. It is very comfortable and you can easily pair it up with pink or white leggings. The suit is available in various sizes starting from Medium to triple XL. So anyone of any size can own this one. It is quite affordable as the current price is only 540 INR. Whether you are skinny or bulky it would really look nice on you. It would look great on both fair and dusky complexion.
Crepe Straight Kurta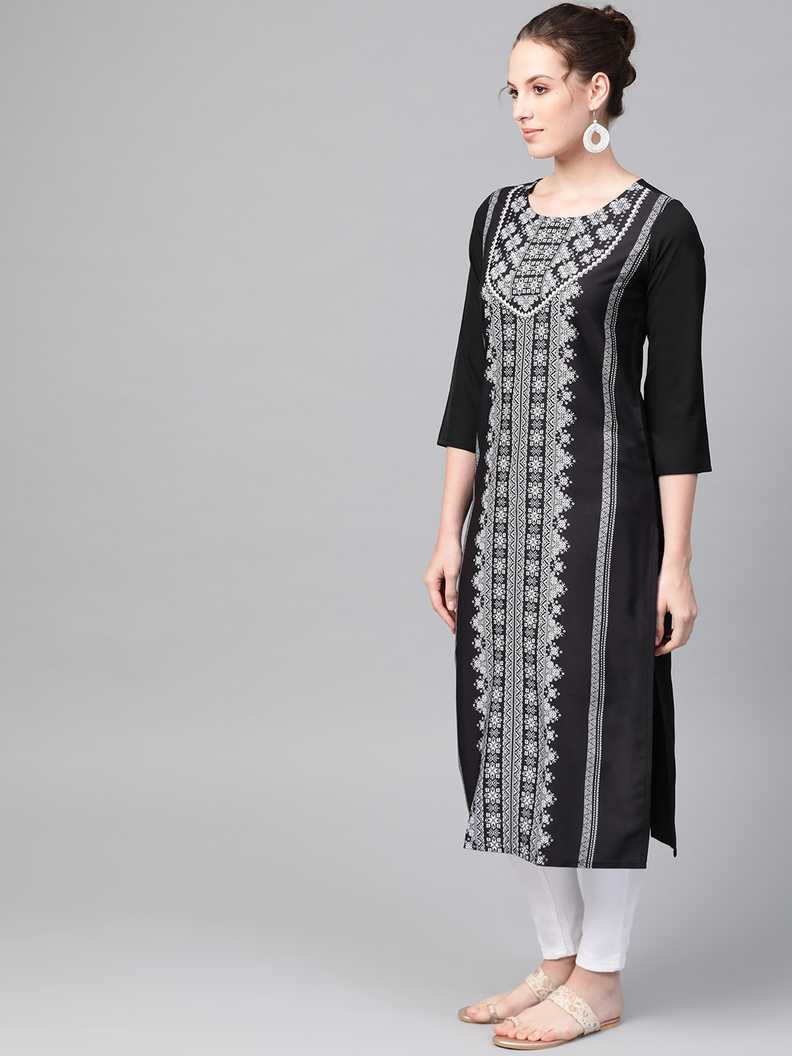 This particular straight kurta by Ahika is a beauty. Though it is available in a number of colors I personally love the black one. It is completely embroidered starting from the neckline till the hemline. Black on itself looks good on anyone and with this design, it looks even prettier. You can pair it up with white leggings or a wine color leggings. Though this is not a good choice for summer it is quite a good option for office wear. You can also carry a contrasting dupatta to complete the look. You should consider adding this to your wardrobe if you are yet to own a straight kurta.
Printed Asymmetric Kurta

Well, you must be wondering if it's okay to wear an asymmetric kurta as a formal. Do not worry. The kurta is not that asymmetric as it says. It is available in a number of colors and most of these are light ones except the yellow. The yellow kurta with designs on it looks really bright. You can buy it for office wear if you can carry it well. Otherwise, you can go for the pastel colors which are really cool and sober for office wear. The casuals are light and comfortable making them perfect as summer essentials. It comes at INR 467. The Fab Tak kurta got a good number of reviews as well.
Embroidered Front slit Kurta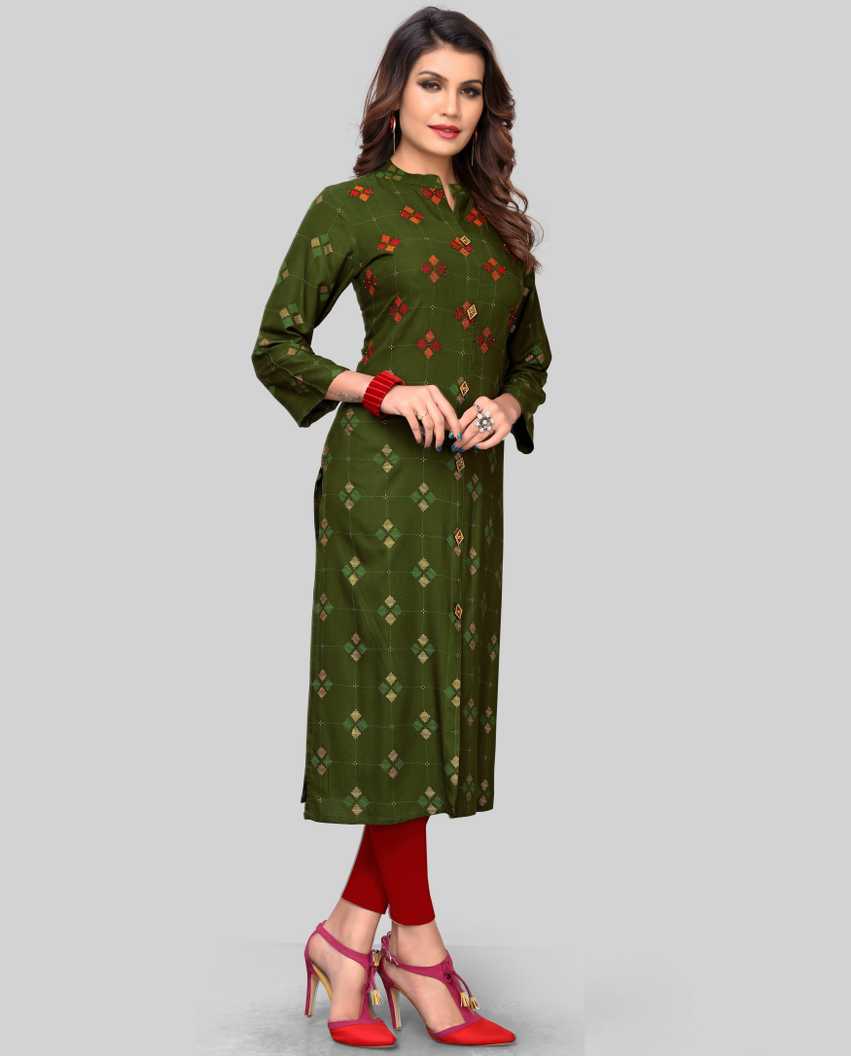 The embroidered front slit kurta by Vbuyz is really bright and trendy. If you are looking for a formal outfit for women then this can be a great option. In fact, the green color Kurti can be paired up with red-colored ankle length leggings. Available in a wide range of sizes this is another great option for regular wear. As it is made up of cotton material and embroidered in red and white it presents a chic look. You would look really smart wearing this one. It costs 697 INR which is quite affordable for a daily wear purchase. It is available in a few more colors – black, blue, and maroon.
Cotton Blend Straight Kurta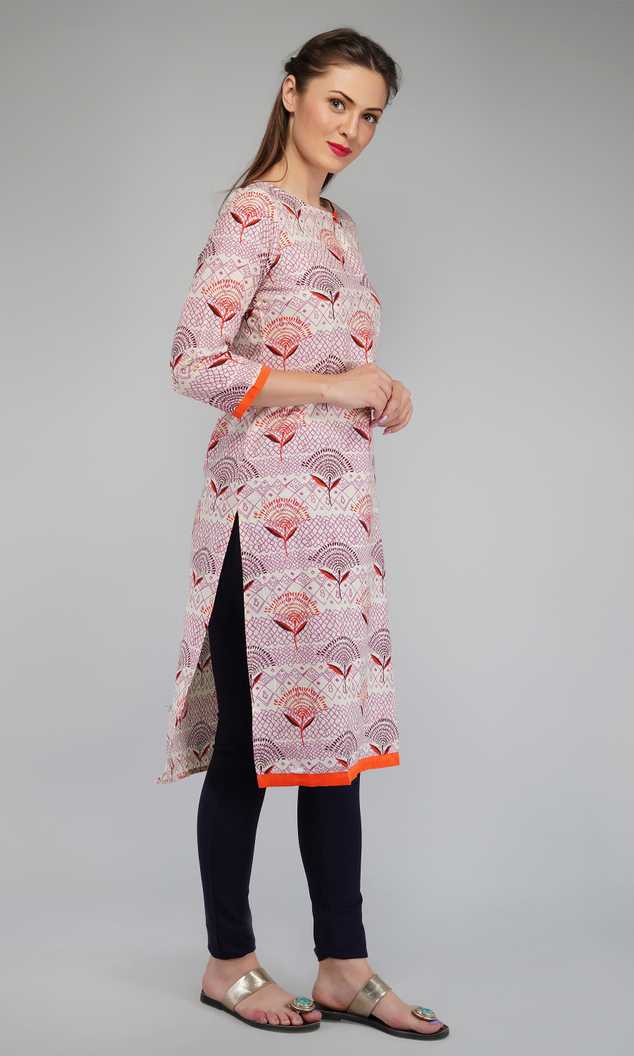 The cotton blend straight kurta by Metro Fashion is available in a number of colors. The picture might not look very promising but I can assure you that it would look great on you. All the colors are sober and soothing to the eye. There can be no better choice than these for summer. You must surely buy one of these. You will be surprised but the price is really low. It is only INR 269. The rates may vary with the color and the size. Try out this light yet very comfortable and simple wear.
I hope you liked the list of Kurtis as a formal outfit for women. Let me know what you like to wear to your office and where did you purchase it from. Write in the comment section below. If you like my suggestions please do share it with your friends and colleagues.