Do you think you know about your country well? There are a lot of facts about India which is unknown to many of us.
Today I am going to talk about some amazing facts about India which I am sure you were not aware of previously.
First Rocket Launch in India
The first rocket launch in India was carried on a bicycle to the launch site. It was a church in Thiruvananthapuram in the year 1963. The rocket was sent to space which led to the foundation of the Indian Space Research Organization (ISRO) by Vikram Sarabhai in the year 1969.
English Speakers in the World
India has the highest number of English speaking people after the USA. That means about 10% of the world's population who speaks English lives in India.
Longest Sandstone Cave
Did you know the longest sandstone cave is located in India at Meghalaya? It is around 24,583 meters in length. The northeastern state is well known for its caves under the hills. Most of the longest caves are present in Meghalaya itself.
Magnetic Hill in Leh
You must have heard of Leh Ladakh if you are from India. We all dream of visiting that place someday or the other. But, did you know about magnetic hills? People get to realize how cars move uphill against gravitation all by itself. It is a famous tourist attraction now.
View of Kumbh Mela from Space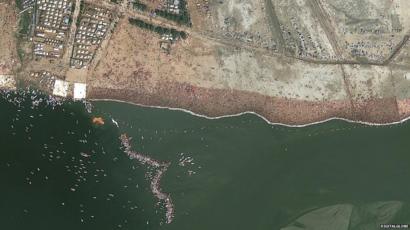 The Kumbh Mela gathering which happens after every 12 years is visible from the space. In 2011 the gathering had over 75 million people which is why it was visible from the space.
Chail Cricket Ground
The Chail Cricket Ground in Himachal Pradesh is the highest stadium in the entire world. It is about 2500 meters in height. Build in the year 1893 it is a part of the military school in Himachal.
Discovery of Sugar in India
Indians were the first to discover sugar. The process of refining and extraction of sugar has come from India.
Human Calculator
Shakuntala Devi, also known as the human calculator is famous all over the world. Can you imagine how this Indian could calculate the product of two 13 digit numbers within a time of 28 seconds only? Indeed, she has her name in the Guinness Book of World.
Snakes and Ladders
The game "snakes and ladder" has its origin in India.
Lake Formed by Meteor
The lonar lake in Maharashtra is said to be formed as a result of a meteor that crashed around 52,000 years ago.
Floating Postal Office in Srinagar
India's floating postal office is located in Dal Lake in Srinagar. It is basically on a houseboat. There is nothing similar to this anywhere in the world.
Village With No Doors
Shani Shingnapur, a place in Maharashtra is famous as the houses don't have any doors. In fact, their shops and banks also do not have any doors or locks. Apart from that they believe Lord Shani is there to protect them. They are not afraid of theft. However, there can be other problems in case a house does not have a door. I wonder how they cope up with such a lifestyle.
Highest Number of IAS Officers from Same Village
In Uttar Pradesh, the Madhopatti village created history by producing the maximum number of IAS officers to date. Not just IAS but the village residents have made their career in various well-known organizations such as Bhabha Atomic Research and ISRO as well.
Highest Railway Bridge in the World
The highest railway bridge in the world is located in Jammu over the Chenab river. The arc-shaped railway bridge is about 35 meters taller than the Eiffel tower. That's really tall.
Worlds Biggest Family With 181 Members
The world's biggest family is from Mizoram, India. Ziona Chana has a family of 181 members. He has 39 wives, 14 daughters-in-law, and 33 grandchildren. Isn't that amazing? He has a four-storeyed mansion with 100 rooms. Isn't it difficult to manage one wife? Wonder how his entire family manages to be happy and together?
I hope you enjoyed reading the list. If you would like to share some more amazing facts about India then please write in the comment section below.
You may also like: https://www.itsappy.com/top-weirdest-foods-of-all-time/